1993

Circa 2003
Obituary
Eileen June Mitchell, 73 years, went peacefully to rest forever in her home with her family next to her as she wished on Sunday, September 10, 2023. Eileen suffered from complications of amyloidosis that caused multiple myeloma with metastasis to the liver, lungs and abdomen.
She was born at St. Vincent's Hospital in Toledo, Ohio on June 15,1950. Eileen attended Sherman elementary. She was a baton twirler (Mulberyette) in Mulberry Park marching band. She also attended Woodward High School and graduated from Whitmer, Class of 1967.
After high school, she completed beauty academy and worked as a hairdresser. In 1968, she married Peter William Schnapp and they had two children, Michelle Lee (Schnapp) Never and Liana Marie (Schnapp) Carr. She remarried and had two more children Shawn Lynn (Campbell) Kiszella and Christopher Michael Campbell. For 19 years, she raised her children in the country near Weston, Ohio with Michael Campbell. She operated a successful hair salon attached to the house and raised her children at the same time.
She continued with her education and earned a Bachelor of Vocational Education, Cum Laude from The University of Toledo in 1990. As a lifelong educator and devoted to helping others, she taught cosmetology at Macomber-Whitney from 1989-1991. She was the Deca advisor where her students made an impact on her while they say she impacted them. Macomber-Whitney closed and she taught at Cumings-Zucker and then Scott High School from 1991-1992.
She continued on with education earning a Master of Rehabilitation Counseling from Bowling Green State University in 2003. She transitioned into a vocational rehabilitation counselor. She worked for Genex, Giving Tree, Goodwill and started her own company VocRehab. She was highly respected in her profession for always going to bat for her clients. A colleague wrote "May she rest easy knowing she improved the lives of so many, for who cared so sincerely…she will be remembered as one of the GREATS in VR, bending all the rules and refusing to take NO for an answer." Her clients were like family. She would go to great lengths and no obstacle was ever too much to try and help them.
The creative person she was, found endless joy in art. She painted ceramics and canvas, made candles, jewelry, a dollhouse and furniture and so much more. For exercise, she shopped in Hobby Lobby, Michael's, Lowes, and Home Goods for the best deals. It was a common occurrence that she would shop for not just crafting items but endless gifts for her children. She enjoyed reading and consistently expanding her knowledge. We often joked that she would make a small fortune on Jeopardy.
She also enjoyed horticulture and always made a full yard of flowers and tree varieties. She loved planning full landscaped beds with whimsical land art and sculptures. She also enjoyed cooking and from scratch she made everything from comfort foods to multicultural foods throughout her whole adult life.
Her greatest loves were her children and grandchildren. She dedicated countless hours to spending time with them. Raising her children, she always made sure they had the best Christmas' and summer vacations. When she planned vacations, it was an adventure. She used paper maps, a KOA book, brochures and a journal. She often shared comical and interesting stories of her childhood.
She had countless friends who spent much time with her on her porch talking about everything under the sun. She was a fiery soul; a recurring phrase was "you always knew where you stood with Eileen and she had a heart of gold". Eileen had a way of attracting people who were suffering or struggling and would always try and find a way to help them. "The most beautiful people we have known are those who have known defeat, known suffering, known struggle, known loss and have found their way out of the depths. These persons have an appreciation, a sensitivity and an understanding of life that fills them with compassion, gentleness and deep loving concern. Beautiful people do not just happen"
She is survived by her children, Michelle (Chuck Never, son-in-law), Liana (Jay Carr, son-in-law), Shawn (Campbell) Kiszella, Chris Campbell. Her grandchildren, Jacob Peace, Jenna Peace, Maxx Peace, Jared Carr, Grant Carr, Kierstin Kiszella, Melanie Kiszella, Christopher (CJ) Campbell, and great grandchild, Karsyn Kiszella. Her sisters Donna Mitchell Afsar and Luanne (Rod) Williams, nieces and nephews, November (Kevin) Nemer and Aaron (Nicole) Williams, and Jolle Afsar.
Eileen was preceded in death by her parents Charles Robert Mitchell and Jacqueline Ann Trotzier and her late husband Curtis Lake. She always spoke sweet sentiments of her grandparents Charlie and Helen "Blue Grandma" (Gill) Mitchell.
The family requests in lieu of flowers and gifts, a donation consideration for funeral home costs, Celebration of Life service and bills may be gifted (see below)
To share an online condolence or a fond memory with the family, please visit Update link when available https://www.reebfuneralhome.com/listings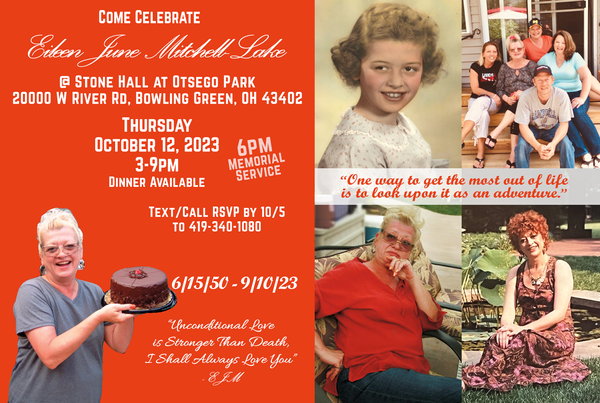 Celebration of Life 
Thursday, October 12, 2023 3-9PM
Location: Otsego Park - Thompson Stone Hall
20000 W River Rd, Bowling Green, OH 43402
In Lieu of Flowers and Gifts
100% of funds is going towards cremation and funeral home costs, celebration of life services and if any leftover any outstanding bills.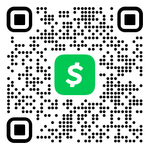 CashApp - No fees.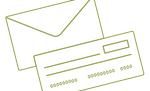 Mail a Check
Please text 419-270-1793 for more information.