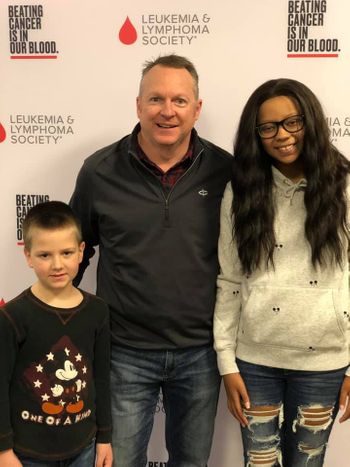 I was nominated and accepted to be a candidate for the 2019 Man of the Year Campaign. I have put an incredible team together to help me in this quest and I can't thank them enough.
We will be campaigning now through beginning of June so please forgive us as we will be all over every media possible to help make this Campaign a success.
We are pushing to raise a lot of money and believe we can accomplish this with our corporate contacts and friends and family. Please join me in any fashion you can whether it be your place of employment that can donate corporately to my campaign or you personally donating or joining us at one of our exciting events. Every dollar we raise counts as one vote for my campaign.
As you know, though, everyone wins when cancer loses. Thanks to your support, my efforts will help fund therapies and treatments that are saving lives. Over the years, support from people like you has been responsible for the blood cancer advancements that have doubled, tripled, and in some cases quadrupled the survival rate for some blood cancers.
Many LLS supported therapies not only help blood cancer patients, but are also now used to treat patients with rare forms of stomach and skin cancers and are in clinical trials for patients with lung, brain, breast, pancreatic and prostate cancers. And LLS funded drugs like targeted therapies and immunotherapies are now saving thousands of lives every day.
All donations are greatly appreciated and tax deductible. They'll not only support LLS research, but patient services, advocacy, public and professional education, and community services as well.
Please visit my website often and tell friends who would also like to donate!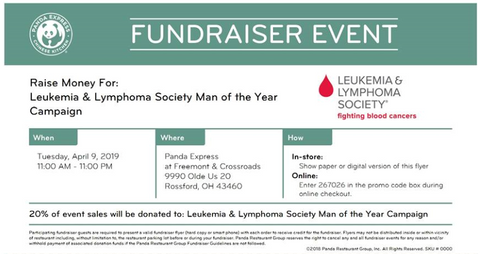 Tuesday, April 9th 11AM - 11PM
Panda Express Perrysburg/Rossford has agreed to help my campaign for LLS
Print this flyer or take it in on your mobile device
They will DONATE 20% OF THE SALES if you show or turn in flyer
Casino Night: All In for LLS
Gamble the night away to support Rod Bowe's Man of the Year Campaign for the Leukemia & Lymphoma Society.
Ticket price includes: entry into reverse raffle, chips for gambling, heavy grazing, open bar (beer/wine). Food provided by Extra Virgin Catering, gambling equipment provided by Full House Casino Entertainment. Beer provided by Patron Saints Brewery and Yuengling
50/50 on the hour, Black Jack, Craps, Roulette, Horse Racing and more! Gamble to increase your chips to trade in for raffle tickets for a chance to win prizes.
Saturday, April 27th, 6-10pm, Total Sports in Rossford, OH
Tickets: $45/per person
To purchase tickets through PayPal, go to: https://paypal.me/RodneyBowe
To purchase tickets through Venmo, search 'Rodney Bowe' using the Venmo app.
For questions or other ways to purchase tickets, please email:
Rod.Bowe@rlgbuilds.com
SHARE Facebook Event https://www.facebook.com/events/2291664101158056/