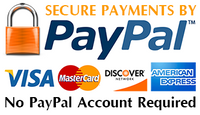 If paying by credit card PRIOR to picture day:
1) Place your order below
2) Bring a printed copy of your paypal receipt.
3) Place the receipt inside the order envelope (very important)
If paying by credit card ON THE DAY OF of pictures:
See check-in desk to get your credit card swiped via Paypal.
Please allow extra time for this prior to your scheduled time.
Credit card must be swiped and envelope mark paid prior to pictures.
You can add as many items as you like to the cart. At bottom of the page, you can view your cart. Check out with PayPal or just a credit card.
Please add this item to cover credit card processing fee for orders under $49. One per total order.